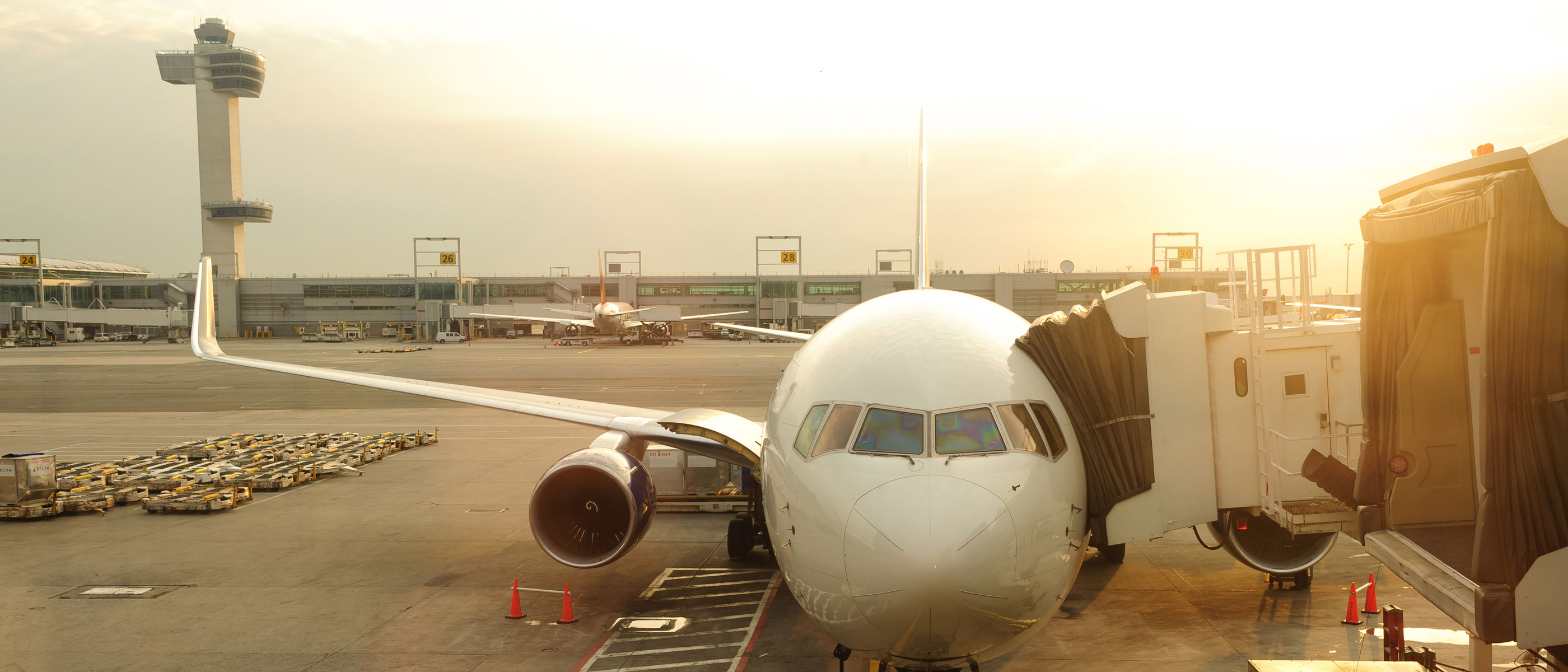 Today, our three major airports rank first, third, and fourth for worst delays in the nation. And while air passenger travel demand could increase 60 percent in 2040 (and double by 2060), it is obvious that our airports will not be able to meet that demand and keep us competitive on the global scale. Unfortunately, expanding any of these airports presents major environmental challenges for adjacent communities and natural ecosystems.
The customer experience—from access to the airport to amenities inside the terminals—is also uneven and subpar when compared with international peers. Even with the success of AirTrain at JFK and Newark, transit access to the airports is not optimal, and traffic congestion on nearby roads and highways makes flying even more uncertain and time-consuming.
Climate change poses an additional challenge to our airports. Teterboro Airport, currently the airport of choice for general aviation flights (primarily corporate business flights), will likely need to close later this century due to the risk of rising sea levels.
Airport expansion is needed to bring delays down to the national average of ten minutes and accommodate future growth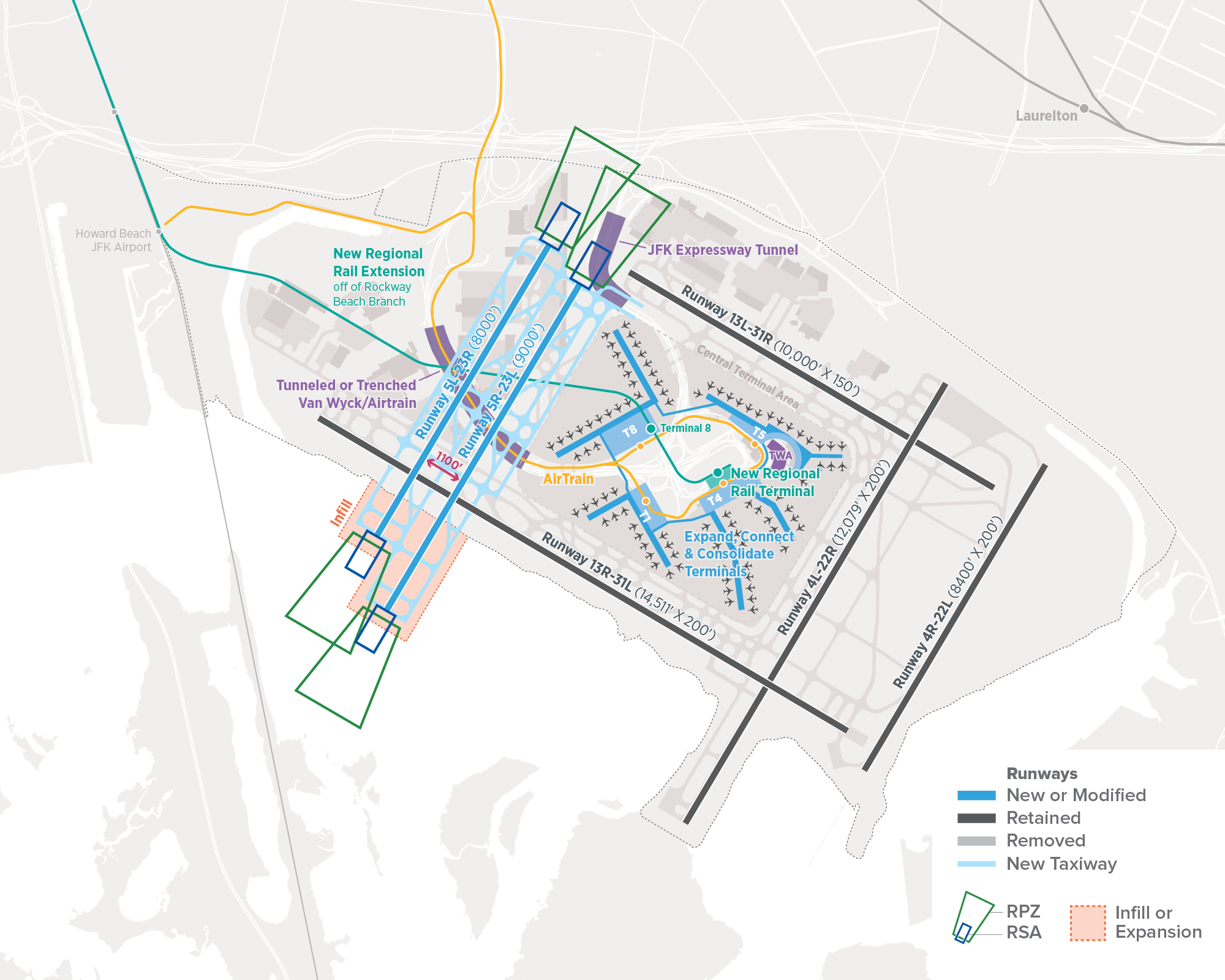 Reimagine Newark Airport
Newark Airport should be reconfigured with a new main-terminal entry connected to public transit, a new western runway, and a midfield concourse. The airport should also be extended south for aircraft parking, add a modernized and more accessible air cargo area, and reduce noise impacts from the new western runway. Comprehensive adaptation solutions would address the risk of flooding of Newark Airport, the I-95 corridor, and the New York and New Jersey port facilities.
Build Terminal A and AirTrain with a maximum 30-year design life: Construct the new Terminal A to operate for the next 30 years or more, until it would eventually need to be razed to make way for the construction of a new runway. The AirTrain system could be a short-term solution, or be replaced by a more-frequent bus service until a new system is in place in 10 to 20 years.
Extend Newark Airport south to create a new cargo area and improve airfield operations: At only half the size of JFK's, Newark Airport's airfield is constrained. To accommodate future expansion, a portion of the new midfield concourse, and cargo operations, the airport will need to expand its footprint. The logical place for this expansion is to the south of the existing airfield, using a 600-acre industrial/commercial area between the airport and the old Central New Jersey rail line.
Consolidate the existing Terminals C and B at the Northeast Corridor (NEC) rail station, with either one or two midfield concourses for boarding planes, and a new people mover serving the midfield concourses. Terminal A would be served by buses in the interim and eventually phased out after its useful lifespan, with terminal services moved to the NEC rail station. This new multi-modal hub will streamline the customer experience and result in more passengers getting to and from the airport by public transit.
Extend the Port Authority Trans-Hudson rapid transit system (PATH) to Newark Airport. The new NEC headhouse would place the PATH at the entrance of the airport, making it effortless to transport baggage from transit to check-in. An extension further south to Elizabeth should be explored, which would open access to the airport to surrounding communities for travel and employment.
Construct a new 9,000-ft runway on the western side of the airfield after terminal consolidation to the new headhouse on the Northeast Corridor is complete and the central terminal area is reconfigured.
Adapt Newark Airport for storm surges and sea-level rise: Along with the Port of New York and New Jersey and the I-95 corridor, Newark is at risk of frequent flooding, with certain areas becoming permanently flooded once sea-level rise reaches six feet.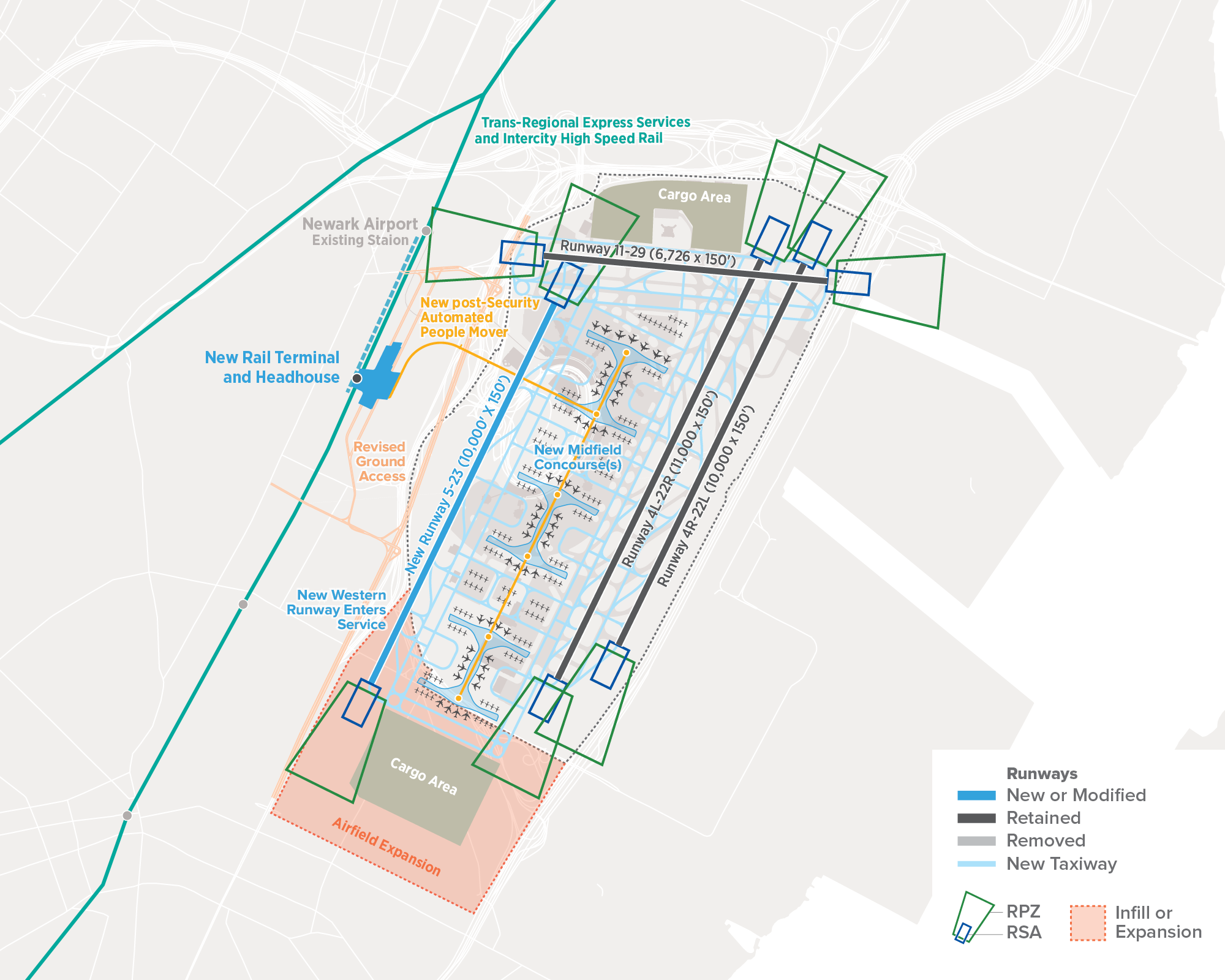 The JFK and Newark airport expansions will greatly improve the overall flying experience and accommodate more passengers. Expected outcomes include:
Direct one-seat ride access to the Manhattan CBD in 30 minutes or less
104 million passengers served annually at JFK
69 million passengers served annually at Newark Airport
Delays reduced from an average of 15 minutes today to the national average of 10 minutes
Expanded job opportunities in downtown Jamaica and Newark, and at both airports
Improved protection from storms and sea-level rise
Replacement of every acre of habitat in Jamaica Bay lost during construction
Airport expansion will be one of the most expensive infrastructure projects the region will need to undertake over the coming decades. Total costs for both airports are estimated at $48 billion—$27 billion for Newark Airport and $21 billion for JFK—which would be paid for by Port Authority airport revenues derived primarily from airline fees and passenger facility charges. This level of investment would only be possible if airport subsidies to other Port Authority operations are phased out over time. Few major airports around the world subsidize other activities as New York does.
Airport expansion will likely require a buyout of a few dozen residential properties to the north of the JFK runways, and industrial and residential properties to the south of Newark Airport.
Mitigation measures should include a one-for-one replacement of any acres of natural habitat lost as the result of construction, with emphasis placed on restoring salt marshes and maritime forests, as well as filling holes made by excavations to fill the bay. A Jamaica Bay mitigation fund should also be established to fund research, restoration, and adaptation efforts.