Everyone deserves the opportunity to live the healthiest life possible, regardless of who they are or where they live.
Goal
By 2040, everyone in the tri-state region should live longer and be far less likely to suffer from mental illness or chronic diseases such as asthma, diabetes or heart disease, with low-income, Black and Hispanic residents seeing the greatest improvements.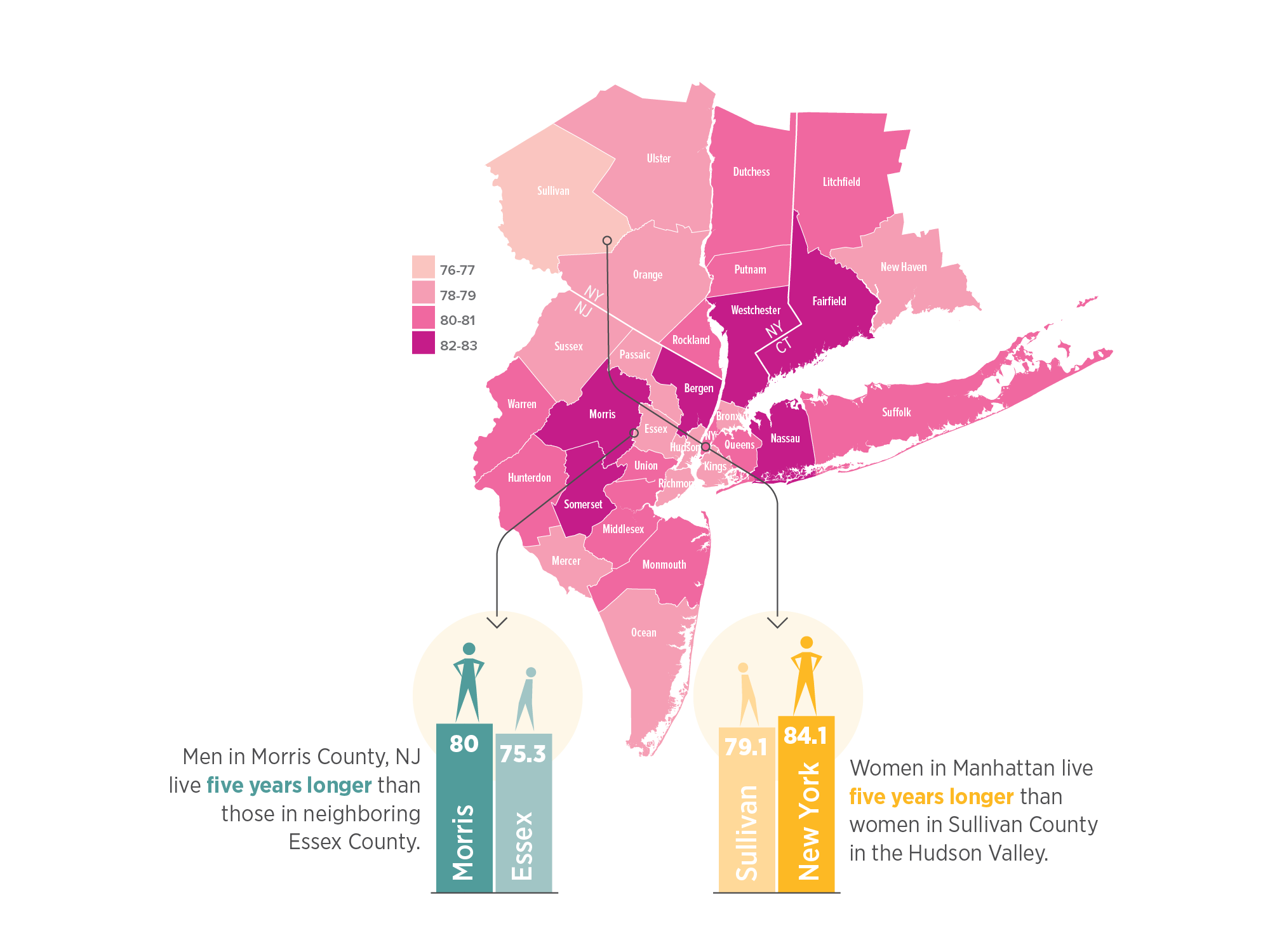 Reconnecting planning and health
The Fourth Regional Plan would restore the connection between planning and health with actions that would correct past injustices and improve the lives of coming generations. As described below, the plan's recommendations seek to intentionally improve health while addressing challenges in four key areas: climate change, transportation, affordability, and governance.
Reform institutions to incorporate health into decision making.
Institutional reform is a precondition to the implementation of any plan. This presents an opportunity to embrace a "culture of health." Agencies would recognize they are responsible for the public's health and make decisions through the lens of health equity. Health impact assessments would be commonplace and funding tied to outcomes. Communities would shape their own future and the health sector would be a key stakeholder in decision-making. To achieve these outcomes would require the following:
Rebuild and expand the transportation network to serve everyone.
A rebuilt and expanded transportation system would connect more low-income communities, be usable by all, and limit negative environmental impacts. New rail service would open up the region's downtowns to more jobs and other opportunities, and enable more walkable communities. New York City's subways would be safer, cleaner, quieter, and fully accessible to people with disabilities. The region's bus system would be fast, reliable, and integrated with other transportation options. Fewer communities would be burdened by poor air quality. And safer streets would have more room for more people of all abilities to enjoy the health benefits of walking and biking. Achieving these outcomes would require the following:
Meet the challenge of climate change by creating a healthier environment.
Preparing for climate change would prevent countless injuries and deaths from extreme heat and flooding, and fewer people would be displaced or live in damaged homes. Cleaner air and water would reduce disease. And many more people, especially communities of color, would enjoy the region's abundant nature and open spaces. To achieve these outcomes would require the following:
Create affordable and healthy communities.
Measures such as fair-housing rules enforcement, land trusts, and support for homeownership will ensure that in the future, growth in the region happens in a way that benefits existing residents, particularly communities of color. More high-quality housing, jobs, public spaces, and services will result in more communities where living a healthy life is the easy choice. To achieve these outcomes would require the following:
If implemented, these actions could help everyone lead the healthiest life possible, regardless of who they are or where they live. But for that to happen, broad consensus around challenging topics will be necessary. Health could be a way to build new alliances, promote equity, understand the true value of different investments, and promote civic engagement.

1. RPA, "State of the Region's Health," 2016
2. Regional Plan Association, "Spatial Planning and Inequality," 2015
3. American Journal of Public Health, "Regional Planning in Relation to Public Health," 1926